Progressive Banjo
Music
Click a music style tab and enjoy. All files are MP3 format.
Jazz
Rock
Classical
Blues
Alternative
Jazz Banjo
Tom Slavicek
Hold onto your hats. This is real Bebop Banjo.
One of the things you'll notice on these cuts is that Tom does most of his playing in the lower to mid registers of the Banjo. Tom doesn't like the sound of the Banjo at high registers, so he built his own instrument and added a 6th string tuned to a low A. That enabled him to play melodies like Donna Lee and improvise complete lines without having to jump up an octave to finish them.
Tom is a perfectionist when it comes to sound and it really comes through in his flawless technique, timing, tone, and relentless swing. Enjoy these tracks from a true Banjo innovator.
Ryan Cavanaugh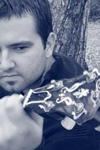 Something truly different. Be sure and listen past the themes to Ryan's soloing. You are guaranteed to flip out. He sounds like John McLaughlin. In fact, John McLaughlin is a friend and Mentor of Ryan's.
Jake Schepps

This is a beautiful Jazz ballad submitted by Jake Schepps and his band "Jake Schepps and Expedition." It was written by his bass player Eric Thorin and included on their CD "Ten Thousand Leaves." This piece is interesting in that it is a traditional acoustic Bluegrass ensemble - Bass, Guitar, Mandolin, Violin & Banjo - playing Jazz. That is unique among tunes submitted to this site.
Click here for Jake's web site
Ron Cody

I'm happy to present an example of Ron Cody's wonderfully progressive playing. Ron hails from the Northeast and has a band named "Fretwater."His playing is reminiscent of Bela Fleck and Allison Brown, but with a refreshing distinction and choice of notes that is all his own. Ron sent me his CD and it was very tough to figure out which tune to showcase, but in the end I went with this one. I highly suggest folks visit his web site to hear more samples and to purchase the CD.
pat cloud
Man, no one will ever be able to play like this guy. Bebop sax lines on a banjo. Who knew? These tunes are taken from a rare video tape of Pat playing somewhere in California. My wife taped "Ally McBeal" over the tape, which was the greatest trial our marriage has ever gone through. At least I got these tunes digitized, thank God...
Russ Rayfield

This is really cool. You won't hear one Scruggs roll or fiddle tune etude or any other recognizable 5-string "signature" in this tune. Just an honest attempt at jazz fusion. I like Russ's tone and rambling, dark choice of notes. There is a hint of John Abercrombie in there. This is from the CD "Who's There?" by Russ's group Half Nelson (Bebopers should recognize the name of a familiar tune...) You can get the CD by contacting Russ via e-mail.
Tim Beach
Tim got inspired to submit this tune after visiting this web site.
David Crisler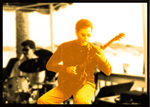 Your's truly! Some of these tunes are played on acoustic banjo, others on electric.
Rock Banjo
David Crisler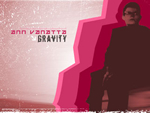 My friend Anne Van Atta wrote and recorded this etheric tune. I put an electric banjo solo track down and effects were added on mixdown.
ken guffnagle
Ok, time to suspend judgement and surrender to barely controlled chaos. Vocals are reminiscent of Tom Waits. The Banjo and the bass don't sound like they are in the same key, giving an impression of "free" beatnik musical poetry.
Classical Banjo
Don Hergert
Don plays this classical sounding piece on a 1889 Stewart American Princess #2 classic banjo with nylon strings. Click here to hear more on his web site.
John Mumma
This is from John's "Banjo Works" CD, which you can order by e-mailing him. It's controlled atonality, like some of the avant garde classical composers of the early 20th century. It's very emotional, intense stuff. Basically, it's a melodic motif that builds and develops. Nice.
Blues Banjo
No tunes submitted yet. Will you be the first?
Alternative Banjo
Rex McGhee
Rex is an incredibly innovative player. He was mentor and teacher to Ryan Cavanaugh. The 2 used to hang out at Snuffy Smith's string shop in North Carolinia picking his prewar Banjos.
These tunes are from Rex's CD "24 Creations for Solo Banjo." The entire CD is full of delightful music, and most tunes have a distinct classical influence. Very inspirational. Click here to visit Rex's web site and find out more.
Leon Hunt

Leon is a progressive player over in England who once studied with Bela Fleck. Leon's web site has a lot of cool stuff, including more tunes, an interview, and links to his band Daily Planet. There is also some info about a tab/CD project as well. Some of the tabs are available for free, along with MP3 files to go along with them.
"India" is my favorite tune at the moment. Very beautiful chords with some nice Sitaresque picking and fretting techniques.
Pete Schwimmer
I first heard of Pete through his mom, who approached me on the streets of Oslo Norway where I was busking with my musical friend Bill Ochoa. She said Pete played jazz too. I was intrigued. There were sparse recording of Pete's playing, but legendary whisperings from the like of Tony Trischka piqued my interest. It's great to be able to feature a few of Pete's early compositions on this web site, as I'm sure there are many like myself who have heard of him but weren't able to find recordings. That's what this website is about - exposing creative players to an audience that appreciates the banjo and appreciates innovation.
Note: Pilgrim Firs is the location (near Port Orchard, WA) where they hold the Puget Sound Guitar Workshop, where Pete teaches on and off. Previously I spelled "Firs" in error as "Furs" which is a big no-no, as Pete is an pretty stict vegetarian! So...no animals were harmed in the recording of these tunes!
Enjoy.
Tony Trischka
Tony helped spawn Bela Fleck and uleashed the full progressive capabilities of the banjo. This is an older original brought back to life by his new band. He was playing this stuff back in the 1970's, well before anyone else dared to pair a banjo with a saxaphone. Here is his web site.
David Crisler
"Thun" was named after a castle in Switzerland and inspired by the song "Jesse's Girl" by Tony Trischka. Thun is a beautiful, enchanting city in the Swiss Alps near Bern. There are buildings there, like this castle, that speak and vibrate from another time. One of the things I feel is missing here in the USA is this sense of deep history. To feel it is to know the song and folly of Mankind. I hope in this song I've conveyed some of the mystery and profound wonder I felt while visiting the great city of Thun.
James McKinney
James plays a lick in Caravan that has to be heard to be believed. Somebody hose these guys down! These tunes are from Jame's CD "Mind over Banjo" which can be ordered via e-mail.
Bill Knopf
Bill's articles on Pentatonic scale theory applied to the banjo got me to expand my horizons. He applies those Pentatonic scales to this arrangement, and has been generous enough to provide tablature for it.
Devon Wells
Devon is from Vancouver, Canada and plays with the Tishomingo String Band (mostly original stuff). "Wrath" is a solo banjo piece inspired by the music from Hitchcock's 'North by Northwest'. Listen for diminished chords...
David Boots
David says Pat Cloud gave him the inspiration to come up with this chord melody arrangement. I think it sounds great. Check out the tablature for it here.