Progressive Banjo
What is the Banjo truly capable of? This site is devoted to furthering the awareness and development of non-bluegrass music played on the 5-String Banjo. The focus is on sound, featuring audio of progressive players. All recordings are presented with the Artists' permission.
"The Banjo is an inert, sound producing device..." - Pat Cloud
What's New
9.27.07An interview with ryan cavanaugh
I got the chance to ask Ryan a bunch of irritating questions and he graciously answered them all!
Amazing opportunities have manifested for Ryan and now he is poised to bring Jazz Banjo to the world in a big way! Teaming up with heavy Jazz players like John McLaughlin and Bill Evans, he could soon have as much impact as Bela Fleck in liberating the banjo out of it's limited use as a country instrument in the eyes of the Mainstream.
Click here to read the interview
Also visit the Jazz section for a new tune submitted by Ryan!
8.05.07new tune by Jake schepps

A nice Jazz ballad named "Lodi" added to the Jazz section. You can find out more about Jake's new CD on his website.
7.26.07Two New jazz Tunes from tom slavicek
The Charlie Parker tune "Donna Lee" played and Coltrane's "Impressions" both played by Tom Slavicek - a Canadian player known only through legend and lore.
The playing on these cuts is dazzling...
7.15.07 Official Launch of the new Bopjo Discussion Forum!

Players of alternative banjo stylings unite! No more shall you exist in a vaccum of eccentric isolation! Join the discussion forum and converse with your peers about jazz, classical, rock, alternative, MIDI, blues - everything related to progressive banjo playing.
Click here to register and join the New Banjo Community!
7.04.07 pete pardee to re-release "Scales & Arpeggios"
Pete Pardee is making a special offer on his web site for the production of the improved, expanded 2nd edition of Scales and Arpeggios for Five String Banjo. He's taking advance reservations for the landmark book that explores the banjo fretboard like no other book written. If you're serious about making music on the banjo, you should own this book!
I recently got a preliminary copy of the book. It has rekindled my own scale practice.
Here are new features of the 2nd edition:
Standardized pitch notation, i.e. written an octave higher than it actually sounds, derived from both classical guitar and classic fingerstyle banjo practice.
Conjoined, annotated symbols in the music staff.
Spiral binding (intention for retail version), at least in the prototype I've sent.
Text (rhetorical pages) edited and improved.
Music notation for Arkansas Traveller.
Publishing quality typography, music and tablature notation, photos and graphics
Additions:
My 23rd Fret
Photos
Explanation of conjoined notation
More moveable fingering patterns
The Song of the Major Scale
Discussion of the C tuning
Multiple corrections in music/tablature pages
As of now, the book is not released for sale to the public, but Pete is actively looking to market it, and will possibly sell it on his website thebanjoman.com
7.05.06 two tunes from Pete Schwimmer
Amazing virtuosity from a Hidden Master. These were written and recorded 17 years ago, taken from his CD "8 Track Mind."
1.16.03 New song Mermaids added to the rock section
Features an electric banjo solo with effects played by your's truly.
9.01.02 Pat Cloud Update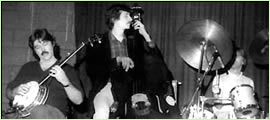 Pat has returned from an extended gig in Japan and is working alot with Band in a Box, recording banjo improv into his computer and converting it all into MP3 files. He split for Japan again, but left me with some choice cuts for your listening pleasure in the Jazz section.
3.10.02 New tune by John Mumma
Added to the Alternative music section.